May
7
Mon
2018
Archipel Francophone – rencontre online des membres français isolés

@ Online
May 7 @ 20:00
Archipel Francophone – rencontre vidéo sur internet des membres français isolés
lundi 7 mai @ 20:00
Thème et débat : la 2ème réunion de la liste transnationale à Lisbonne le 26 avril dernier
S'inscrire à info@nullfr.diem25.org
May
8
Tue
2018
What's Left in Europe on May 8th

@ Westminster Palace
May 8 @ 18:00 – 20:00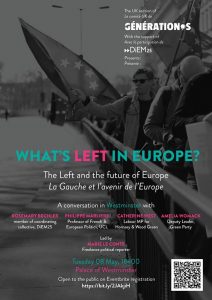 A conversation in Westminster with:

Catherine West – Labour MP for Hornsey and Wood Green
Philippe Marlière – Professor of French & European Politics, University College London
Amelia Womack – Deputy Leader, Green Party
Rosemary Bechler – member of coordinating collective, DiEM25

Led by Marie Le Conte – freelance political reporter

---

Political events in recent years have profoundly altered the landscape of the Left all over Europe. A prolonged economic crisis and the persistence of austerity policies have highlighted a real crisis in political thinking, leading to the break-up of traditional movements or parties; the rise of radical grassroots and citizens' demands on the Left; and to the rise of right-wing populism, expressed notably by Brexit. Today, throughout Europe, the Left needs to reflect on its very purpose: emerging as it did from humanistic and international roots, how might it rethink the idea of the nation-state, and respond to people's mistrust of policies that breed inequality and democratic deficits, at the national and European levels? And given the imperative of international responses to ecological challenges, how can the Left balance the protection of vulnerable communities within national borders whilst catalyzing transnational unity? What should be the new priorities for the 21st century Left, in a Europe whose construction has ground to a standstill, but whose union still generates hope?

Looking forward to seeing you in Westminster soon!