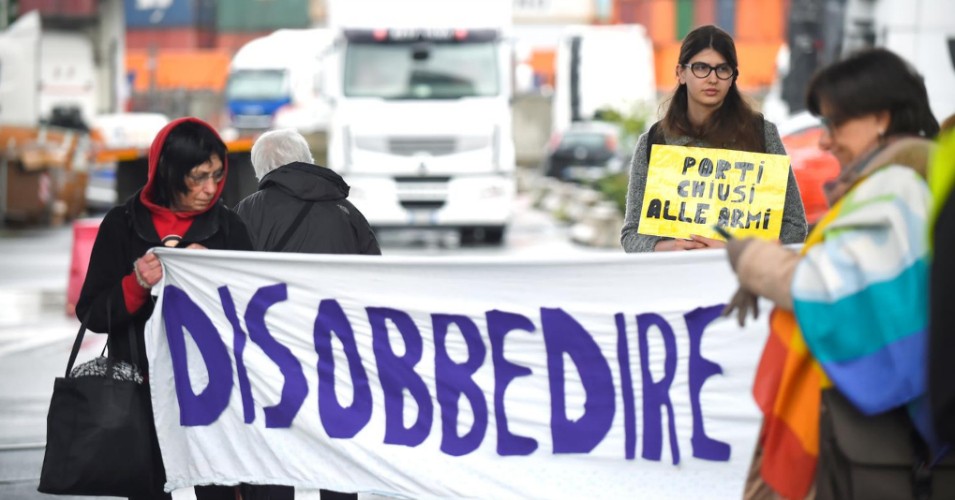 Featured News
In late April, the Saudi freighter Bahri Yanbu set sail from the US carrying a lethal cargo of arms. It was heading to Europe to load more weapons before returning to Jeddah. In early May it docked in Antwerp, Belgium, where several containers with ammunition were loaded.
Its next port of call was Le Havre, France. Here, however, dockworker trade unions and activists from human rights organisations ACAT and ASER prevented it from docking to load a weapons cargo including 8 Caesar self-propelled cannons. This was despite the Paris Administrative Tribunal's rejection of a suit filed by ACAT/ASER that says the shipment violates the UN Arms Trade Treaty (ATT). The ATT forbids a country from authorising the transfer of weapons to another if it has knowledge that these weapons may be used to commit war crimes. Leaked military intelligence published by Disclose had shown that French weapons were being used for waging Saudi Arabia's devastating war in Yemen. Unfortunately this weapons cargo was later transported by train to the Italian military arsenal at La Spezia, where the ship picked it up.
On 13th May the Bahri Yanbu was in Santander harbour, Spain, where more weapons were loaded despite protests. On May 20 its docking in Genoa, Italy, led dockworkers to go on strike, blockading the port and refusing to load arms and related equipment – an action locally hailed as a historic act of solidarity and working-class internationalism. As part of the Italian General Confederation of Labour (CGIL), they released this statement:
We believe this resistance is our small contribution to resolve a big problem for a population that is killed daily in wars…we will not become accomplices in this arms trade. We expect the government and institutions to respect international agreements. We continue to think that Italian ports must be open for people and closed to weapons.
Another Saudi freighter, the Bahri Tabuk, docked in Marseille on May 28. Based on the Disclose revelations, local dockworkers and trade union CGT had already refused to load any weapons. Whilst allegedly only civilian supplies were loaded, local activists pointed out that the ship was already carrying Canadian armoured vehicles. Its docking was thus in violation of the ATT, which extends beyond the provision of weapons to include their transit.
Saudi Arabia is the world's largest arms importer. After the US, the UK is its second largest supplier (€5.5 billion worth since the Yemen war erupted four years ago), France third largest (€3 billion worth between 2015 and 2017), Spain not far behind (€1.2 billion between 2015 and 2017), and tiny Belgium its sixth largest supplier. In October 2018, Germany temporarily suspended weapons' sales to SA in protest against the murder of Jamal Khashoggi. And yet, the Saudi-led war in Yemen – which has taken over 70,000 lives, left 22 million in destitution, and brought Yemen to the brink of famine – does not constitute sufficient grounds for a ban on weapons sales by these countries?
Whilst politicians and masters of war (Black Sabbath's war pigs) massacre thousands overseas to protect commercial interests, our "well-educated" elite could not be bothered. But workers have shown true internationalist spirit and awareness by transcending local and national politics to defend lives in distant lands. The 1974 Scottish workers' strikes boycotting the Pinochet regime set an inspiring precedent, Nae Pasaran! However, recent protests remain unreported by mainstream media, and journalists who exposed French involvement in the Yemen conflict now face potential incarceration.
At DiEM25 we salute the courage, vision and solidarity of the dockworkers of Genoa, Le Havre and Marseille, and all others refusing complicity in this murder industry. We appeal to our DSCs throughout Europe, especially near major ports, to contact each other and local trade unions towards enabling concerted Europe-wide civil disobedience. We cannot allow these sinister vessels of death to dock in our ports.
Sona Prakash is a member of the DiEM25 thematic DSC Peace and International Policy
Do you want to be informed of DiEM25's actions? Sign up here.