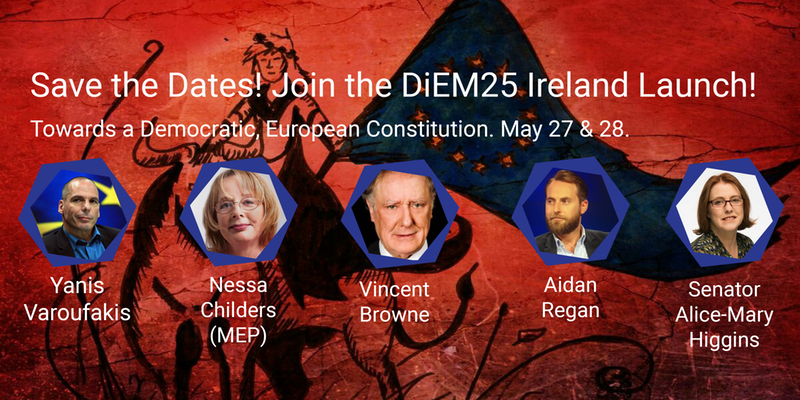 Featured News
Yanis Varoufakis Returns to Dublin to Launch DiEM25 in Ireland
A weekend-long event will put Dublin at the heart of progressive European politics
DiEM25, the Democracy in Europe Movement, will hold its official launch in the Republic of Ireland during the weekend of the 27th and 28th of May. DiEM25's first large scale event in Ireland will focus on generating a positive, progressive vision for Europe's democracy.
Entitled Towards a Democratic, European Constitution, the main event will take place in Dublin's Tivoli Theatre – on Saturday 27th May – 7pm to 10pm. During the evening of the 27th of May, Yanis Varoufakis, Vincent Browne, Nessa Childers (MEP), Aidan Regan and Senator Alice-Mary Higgins will engage in a debate with democrats from Ireland and beyond.
During the morning and afternoon of the 27th of May, DiEM25 in Dublin will organise a unique "World Cafe", at the Complex. At this occasion, people from across Ireland's and Europe's civil society will engage in truly participatory activities, aimed at sharing ideas about European values, European movement building and – most importantly – visions about Europe's future.
By means of this groundbreaking programme, DiEM25 in Ireland aims to bring participatory politics to the centre stage. Real politics means coming together, engaging with each other's ideas, and formulate real solutions to Europe's problems.
Follow this link for the full programme of events:http://www.diem25dublin.eu/
The livestream of the evening event (from 8pm CET): https://www.youtube.com/watch?v=rtrn6UbVmGQ&t=5884s
Do you want to be informed of DiEM25's actions? Sign up here.