The Botanical Garden in Brussels played host to Assange's 51st birthday 'celebrations' which were used as an opportunity to call for his release
DiEM25 Belgium, which is part of the 'Free Assange Committee Belgium', took part in a joint protest on Julian Assange's birthday last Sunday, to once again voice our demands for his release.
The committee celebrates Julian's birthday every year at a park in Brussels. The Botanical Garden in the Belgian capital was the venue chosen to mark the occasion of his 51st birthday last week, which saw numerous activists come along, including those from the city of Namur, to call for his freedom.
Attendees bore placards with various messages, particularly highlighting the fact that it was his fourth birthday spent inside the UK's high-security Belmarsh Prison, as well as wearing Assange masks with the US flag covering his mouth to symbolise the freedom of speech that has been stripped away from him.
Fittingly, the afternoon came to a close near the Congress Column, a monument that honours the first legislative assembly that drafted the constitution after Belgium's independence in 1831 and where the tomb of the Unknown Soldier of the First World War is located.
Four statues represent freedoms guaranteed by the 1831 Constitution, including press freedom, which seems to have been abandoned given the mistreatment of Julian Assange over the course of the last decade.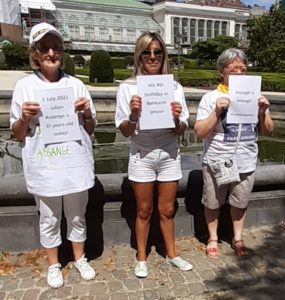 The committee's commitment
The Free Assange Committee has been demonstrating every Monday at 17:00 local time in Julian's name since April 2019. The first Monday of every month sees gatherings in front of the British embassy, while protests take place on subsequent Mondays at the Place de la Monnaie in Brussels, and sometimes in front of the American embassy.
In January 2020, with the support of DiEM25, statues of Assange, Manning and Snowden were unveiled in the presence of officials from Brussels.
In addition to constant activity on the web and the continuous spread of information regarding Assange's situation, as well as court proceedings, the Committee organised petition campaigns against his extradition to the United States.
Do you want to be informed of DiEM25's actions? Sign up here