After our wildly successful Italy tour, DiEM25 co-founder Yanis Varoufakis is now in Paris to spread our movement's message and strengthen its machinery in France. Here's what he will be doing:
putting DiEM25's proposals to key players in the French political landscape, to test the ground for potential allies
meeting local DiEM25 activists, to expand our movement's base in France (one of a handful of countries that already has a national coordination structure for all things DiEM25)
launching the French edition of his book Adults In The Room, which details his confrontation with the EU establishment as Greece's finance minister in 2015, laying the foundation for the movement that became DiEM25. (In case you missed it, there is also a film of 'Adults' in the works!)
Upcoming events in Paris this weekend:
SAUVER l'EUROPE : POURQUOI ? COMMENT ?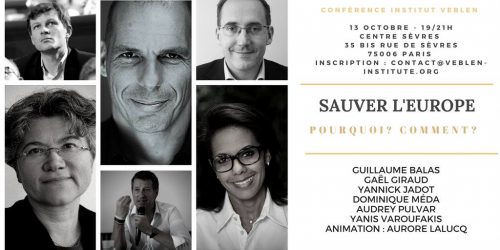 Friday, October 13 at 7pm.
Hosted by the Veblen Institute
At the Centre Sèvres, 35 bis rue de Sèvres, 75 006 Paris
Reservations: www.veblen-institute.org
---
Join our
DiEM25-France
Café on Sunday!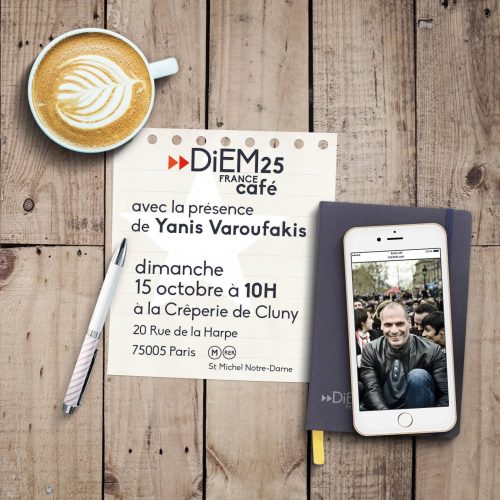 Register here.
---

We'll be updating this page with media coverage from the tour. Stay tuned!


Press coverage:
Social Media:
Varoufakis : «Macron fait une énorme erreur en supprimant l'ISF» https://t.co/6JCOtHY5ly

— Le Parisien (@le_Parisien) October 12, 2017
#Europe "Nous sommes tous plus pauvres et nous avons moins d'espoir que ce que nous méritions" Yánis Varoufákis, économiste Grec pic.twitter.com/Z2T81rupRm

— franceinfo (@franceinfo) October 12, 2017
Yanis Varoufakis : "Dans l'UE, la démocratie n'a jamais existé" https://t.co/ekr1Vp8KId pic.twitter.com/7PjJqWKxlE

— Marianne (@MarianneleMag) October 12, 2017
"Aujourd'hui, la plupart des Européens ont perdu confiance dans les institutions de l'UE." @yanisvaroufakis #28min pic.twitter.com/d0I4YxwOSg

— 28 minutes (@28minutes) October 12, 2017
Rencontre avec Yánis Varoufákis : «En Europe, les chiffres prospèrent, les gens désespèrent» https://t.co/MBsO8fAN56 pic.twitter.com/GbybDGVOEz

— Libération (@libe) October 12, 2017
---

TV:

– Arte, 28min, le 12 octobre à 18h
---

Radio:

– France inter, La matinale, L'invité de 8h20, Nicolas Demorand, le 12 octobre, à 8h20, réponse aux questions à 8h40
– France inter, le billet de Frédéric Beigbedder, le 12 octobre
– RTL, annonce de la rencontre de Benoît Hamon avec Yanis Varoufakis et mention du livre, le 11 octobre
– France info, Jean Leymarie, le 12 octobre, diffusion à 18h30
---

Articles:

– Mediapart, annonce de la rencontre le 14 octobre, le 5 octobre
---
Do you want to be informed of DiEM25's actions? Sign up here