In February 2016, a group of activists, thinkers, and agitators gathered together in Berlin's Volksbühne theatre and vowed to shake Europe.
Two years on, our movement is rumbling around the globe, with 70,000 members and more than 100 Spontaneous Collectives (DSCs) worldwide. DiEM25 local groups are sprouting up in cities from London to Ljubljana to address Europe's crisis of democracy. DiEM25 chapters are marching in the street for a European New Deal. And — as of this year — DiEM25 has activated an 'electoral wing' to contest elections and take its Progressive Agenda for Europe to ballots everywhere.
Many doubt us. The establishment fears us. But in the course of just two years, we have shown that it is possible for the people of Europe to come together in the fight for democracy.
And that fight has just begun.
Our radical, utopian journey continues
February 2017
Held a two-day conference in Frankfurt on 'Inventing Europe,' bringing together brilliant thinkers like Chantal Mouffe and progressive politicians like Razem's Adrian Zandberg to reimagine European politics.
Launched the Dutch branch of DiEM25 and held a public debate ahead of the elections with Alexander Rinnooy, Kathalijne Buitenweg (D66), Marit Maij (PvdA), and Renske Leijten (SP).

April 2017
Gathered in Cologne for a conference on the 'extreme centre,' featuring DiEM25 Advisory Panel member Saskia Sassen and DiEM25 co-founder Srećko Horvat.
Launched the DiEM Lab from the Berlin DSC in an event to build Rebel Cities that challenge the European status quo.
Came together in Thessaloniki under the banner of 'Reason, Hope, and Dignity' for the Greek people.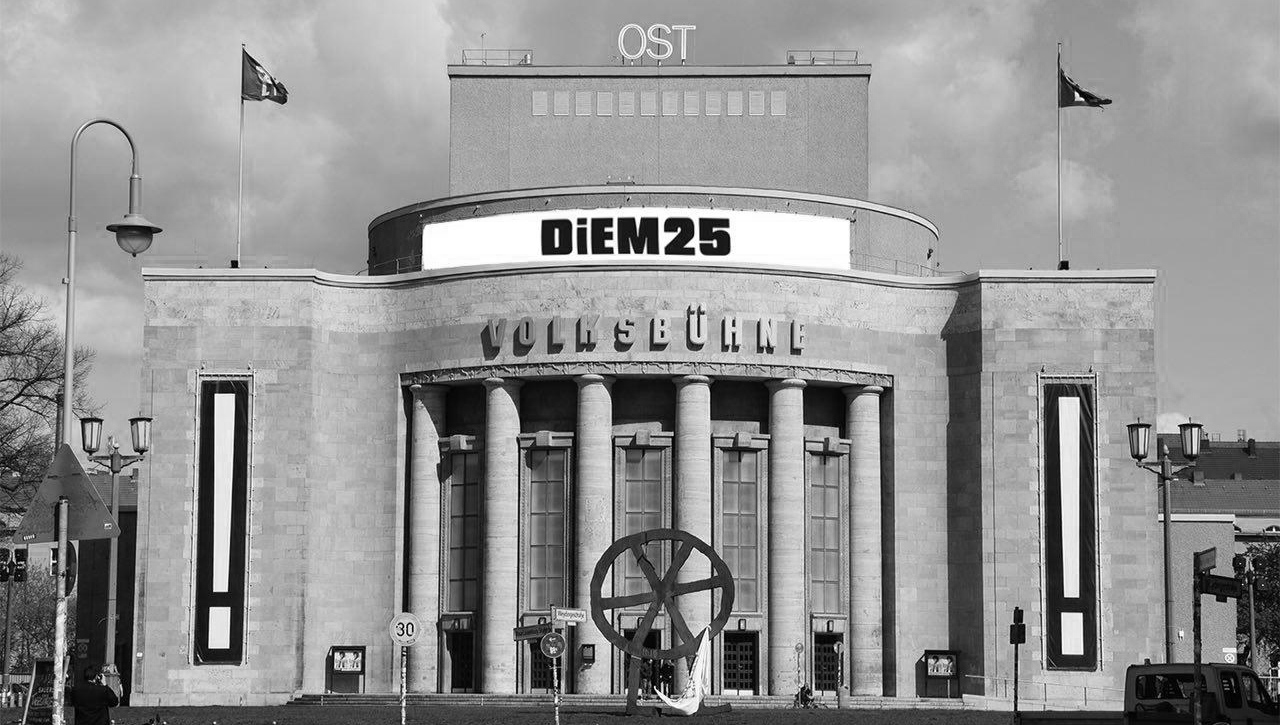 August 2017
Launched DiEM25's tech pillar in Prassau Germany, organised by Munich and Vienna local groups (DSCs).
Cast our votes for the new Coordinating Collective, the team that organises our movement's activities across the continent.
October 2017
Initiated membership-wide vote to launch DiEM25's electoral wing, a powerful tool in DiEM's toolbox for taking on Europe's establishment, ahead of European parliamentary elections in 2019.
Came together in Prague for a seminar on 'How to Democratize Europe,' organized by Prague and České Budějovice DSC.
Returned to Paris to meet with DiEM25's Provisional National Collective and forward our movement's goals in France.
DiEM25's German activist held their largest gathering in Frankfurt.
November 2017
Award-winning journalist Naomi Klein, Professor Richard Sennett, and Irish Senator Alice-Mary Higgins joined our Advisory Panel.
Joined our brothers and sisters in the fight to #MakeAmazonPay in Germany.
Activated our 'electoral wing' after an all-members vote to bring our European New Deal to ballots across the Union.

December 2017
Came together in Lille for a series of seminars, workshops, and actions to reverse Europe's anti-democratic backslide.
Launched a new campaign for the Bundestag to "Go European," outlining 13 concrete demands for the German parliament.
Elected 48 grassroots activists to lead our movement's first National Collectives in Belgium, Germany, Italy, and Greece.

February 2018
Returned to Berlin to celebrate our second anniversary where our local activists brought together grassroots from all over the world, members of the Coordinating Collective, newly-elected National Collectives and hosted Meral Cicek of the Democratic Northern Territories of Syria to discuss about Rojava, future projects and the trajectory of DiEM25 in moving Europe forward together.
Voted to contest the Belgrade city elections under the banner of our local grassroots partners Ne Da(vi)mo Beogra + d (Don't let Belgrade Down).
Announced DiEM25's first political party in Greece, MeRA25 — the European Realist Disobedience Front — and began the process of crafting its manifesto ahead of the launch of the party in March.
Can we count on you to keep our movement going strong?