This past weekend, activists from MERA25 and DiEM25 in Germany met for a day of workshops and an evening event in Bremen that was both militant and loving 
We think Germany is at a crossroads: the government has decided in favour of American, Qatari and Azerbaijani gas and against a green transformation. The government bends and twists its morals while the climate continues to collapse. At the same time, prices keep rising. The government refuses to take any action to improve the economic situation. Instead, it imposes austerity. DiEM25 is needed now more than ever, because we connect the political struggles of people from all over Europe.
We have learned a great lesson from Occupy Wall Street and the Indignados, that demonstrating in the streets is not enough. We don't have time to influence those who have brought us to the brink of the apocalypse: We have to replace them. That is why we are founding MERA25 all over Europe.
Erik Edman, political coordinator of DiEM25, was a guest. In his speech, he emphasised one of our most important principles.
"There is no fight between the North and the South, but between the citizens and those who try to impoverish and oppress them," he stated.
The local level is as important as the international level because the problems are interconnected in the system we live in. We have to start everywhere, and that's why our weekend was so important: people all over the continent looked to Bremen!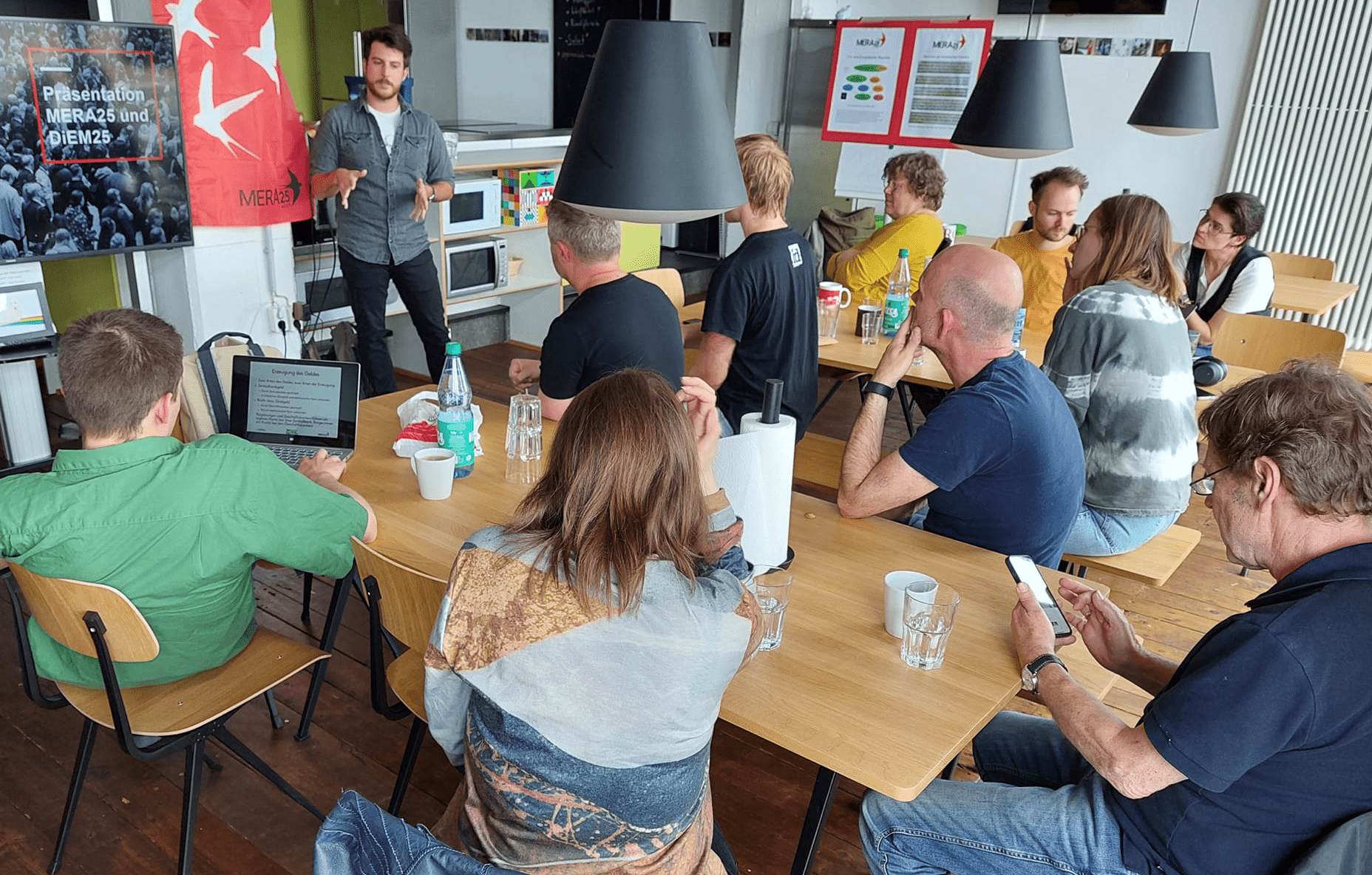 Our work towards the 2023 parliamentary elections in Bremen
Throughout the day we worked on our vision of how a Bremen for the many can look concretely in areas such as energy supply, education, work, health and culture. Because unlike others, we develop programmes together with those who join us: With a view to next year's parliamentary elections, we are not just fighting against what is not possible, but also for what is possible.
In the evening, we had the Bremen Unemployed Association, the activists of Letzte Generation, the Bündnis Menschenrecht auf Wohnen and the citizens' initiative Platanen am Deich as guests. Many of our guests' goals are also ours, because we too know that new investments in fossil energies are the wrong way to go, that housing vacancies must be ended and trees must be preserved. We too are against rising prices and demand that prices go down.
We stand together against politicians like Sigmar Gabriel or Christian Lindner who predict hard times for us because they have no idea that times have never been easy for us in a society where the few have too much and the many too little.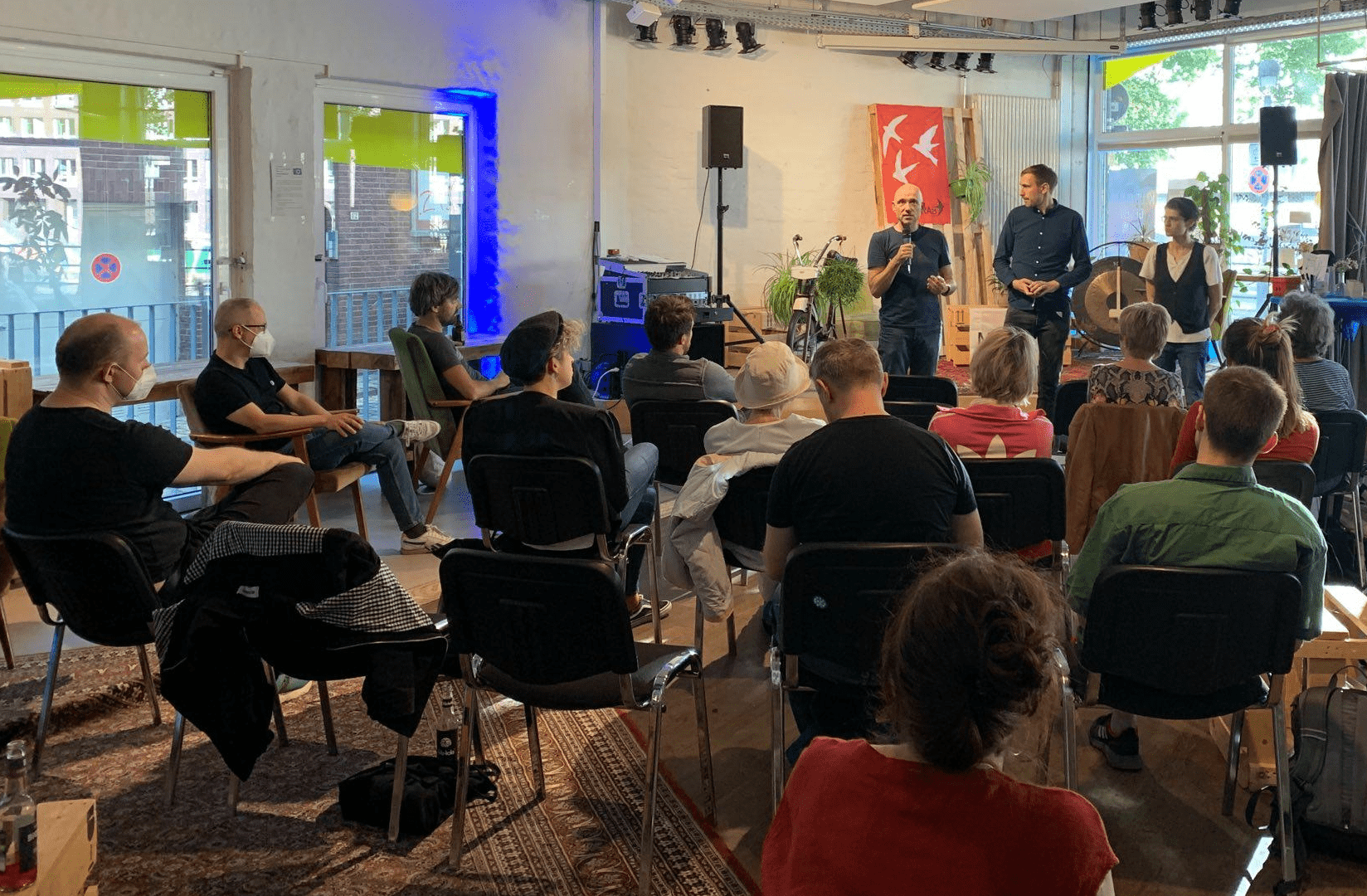 For us, getting to the root of the problem with a radical financial policy means, as Vincent Welsch emphasised at his workshop, that it's "time to finally solve the problem of too little investment by reforming the monetary system! Among other things, monetary policy decisions belong under public control".
Many thanks to our MERA25 Bremen team, to all our guests, to the band Seelefant and to a great audience for a successful, combative and loving day.
Our conclusion: prosperity for the many instead of wealth for the few is possible, and not a utopia.
It is important to always remember the following: All social and economic conditions are made by people and can therefore be changed by people. That is what we stand for. We want to do this not only for you – but with you! Because change never comes from above. Will you join us? Become a MERA25 member here!
Do you want to be informed of DiEM25's actions? Sign up here